Central Oregon :
Digital Content Development
Combining the talents of our in-house content creation team with those of contracted video producers the RDMO will create a comprehensive and diverse collection of stories, trip ideas and itineraries for visitors to use in their vacation planning process. Regional Stakeholders will be invited to suggest community/attraction specific content to ensure widespread regional exposure.
The new content will further bolster the evolving regional website, which is a treasure trove of useful information for prospective visitors. Working with established social media influencers Visit Central Oregon will take the Central Oregon experience to new fan bases while helping Visit Central Oregon obtain new, unique content that can be shared at no cost throughout the regional partner DMO network.
This investment was a success in that it allowed Central Oregon to increase our content and asset library. This resulted in more engagement from potential visitors on the website and greater brand awareness.
67% of Central Oregon Stakeholders responded that creation of additional region-specific stories, video and content is a high priority.
Goals
67% of Central Oregon Stakeholders responded that creation of additional region-specific stories, video and content is a high priority. Central Oregon's FY17-19 plan incorporated creating and producing video blog posts that highlight local businesses, activities and events from a regional tourism perspective.
Due to staff changes of the in-house content team, we were not able to complete the amount of video blogs that we set as a goal (24 posts). Our aim with the blog posts was release inspiring trip ideas and information twice per month. Changing gears, we focused on expanding our content through various media and creative partners. Outside social media influencers were secured for both timely and evergreen content that reached new audiences real-time, and further be used to attract new fans in the future. Influencer reached new audiences and markets like Chicago where we had acquired new direct flight service. Through the targeted marketing our new "Makers" content reached specifically targeted niched audiences in our primary geos.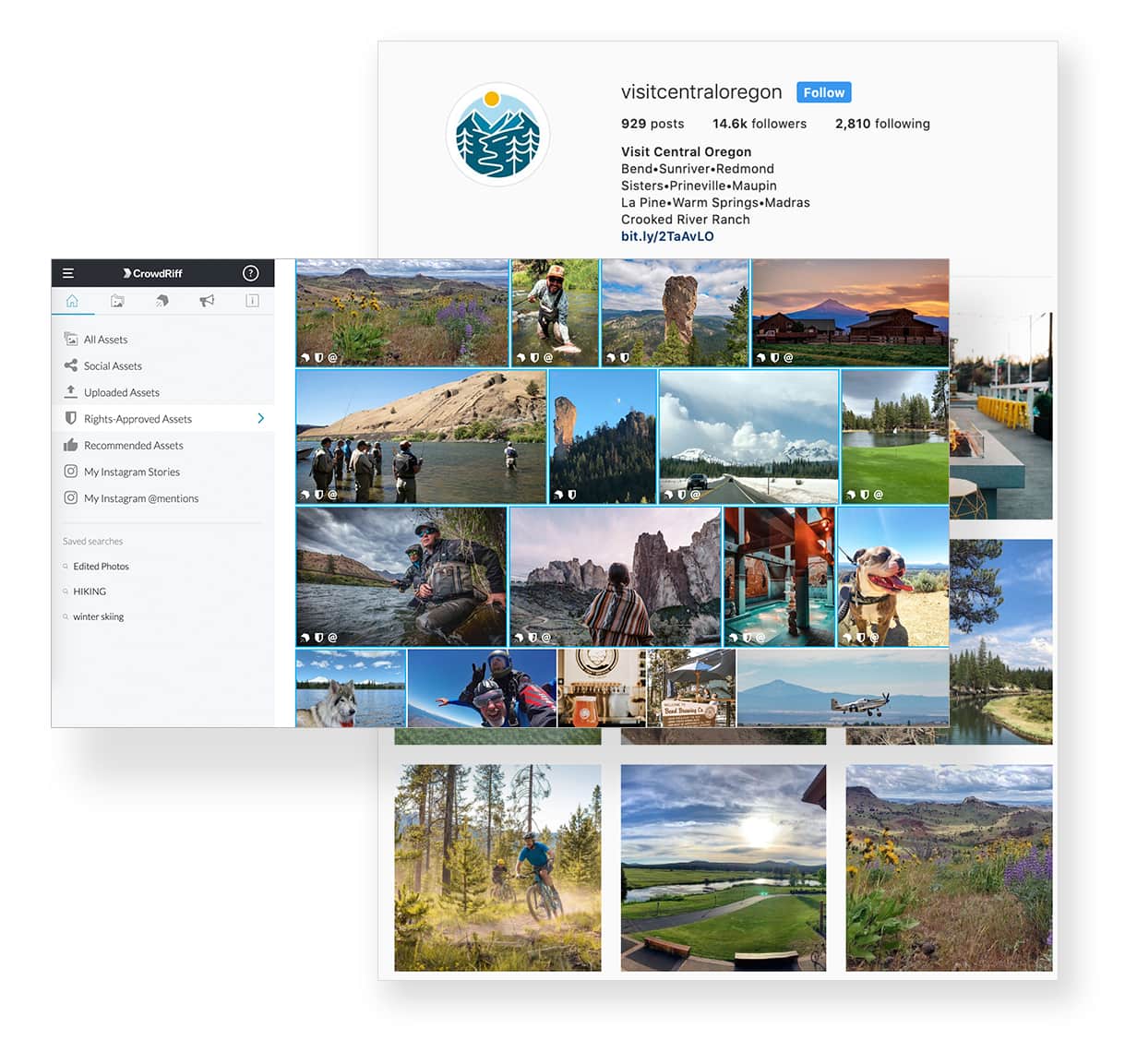 Outcomes
Licensed Crowdriff software to source UGC from social platforms for our own use.
Launched successful Your Story content about Central Oregon Makers with MEDIAmerica which increased web traffic with pre-qualified readers from traveloregon.com.
Increased our photo and video asset library through working with regional and state-wide photographers.
Partnered with Chicago area influencers to promote regional awareness and new direct flight service between RDM and ORD helped in driving a 2,165% increase in Chicago area website traffic YOY.
Eclipsed 14,700 followers on Instagram through new engaging content. This was a 151% increase from the beginning of the biennium.
Results
This investment increased owned media traffic which was driven to the website. The increased content helped create engagement with more potential visitors increasing their likelihood of booking travel to the region. We track engagement through increases in web traffic which are outlined below including a 51% increase in pageviews as well as being more than 5% above the industry average in our open and click rates for owned media.
Moving Forward
Due to the level of increased engagement with potential visitors though all media channels, Central Oregon will continue to make updated content and assets a priority in the upcoming plan. While we had to adapt due to staff changes, we were able to do so in a way that allowed us to work with new content partners such as National Geographic Adventure photographer, Chad Copeland, Northwest Collective (film office) and others, leading to success.
Back to Home
Next Investment