Central Oregon :
Website Updates & Marketing
Visit Central Oregon invested in a website user and conversion study with Destination Analysts, on behalf of DMA West Education & Research Foundation. The online survey developed a profile of travelers and delivered data about the return on investment the regional website brings to Central Oregon.
Analyzing the data provided by Destination Analysts and the website user detail available in Google Analytics, Visit Central Oregon created a road map for enhancements and improvements to the site that will serve both our regional partners and visitors. This plan will create streamlined user flow and improved usability, decrease site and page load time on both desktop and mobile, and increase conversions from website visitors.
Among other things, this investment almost doubled our pageviews, decreased bounce rate and increased outbound clicks to stakeholders by double and triple digits. Potential visitors engaged in more content and found what they were looking for. We know this to be true with a 51% increase in pageviews and a 73% decrease in bounce rate, meaning, more people were finding content they felt was more useful in trip planning.
Goals
63% of Central Oregon Stakeholders responded that Development and Enhancement of the regional destination web site is a priority; with 88% responding that creation of video and photography assets were of Very or Extremely High importance.
Because of this, Central Oregon's 17-19 plan included website enhancements to create streamlined user flow and improved usability, decreased site and page load time on both desktop and mobile, and increased conversions from website visitors.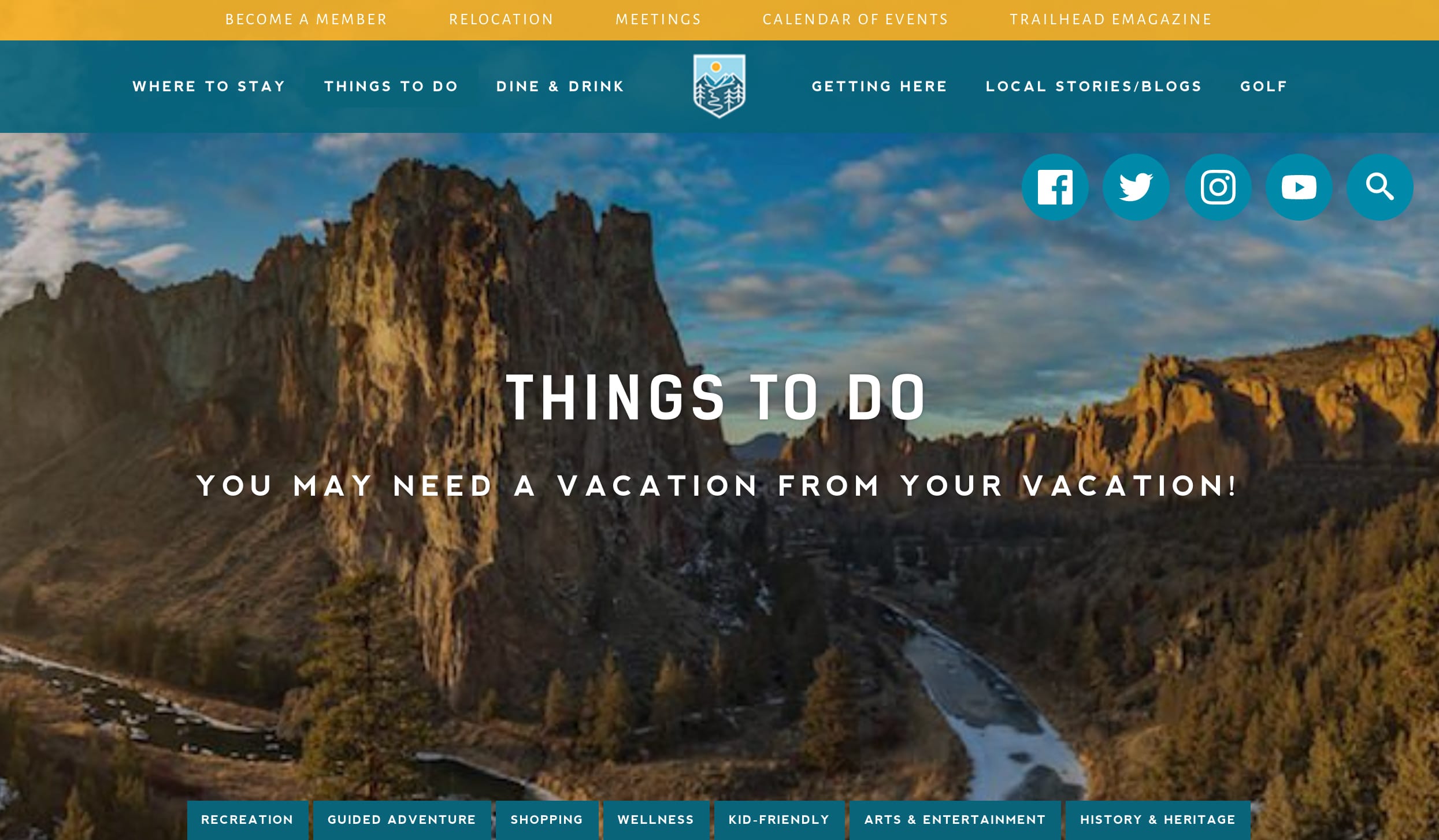 Results
Changes to the website made the user experience more streamlined in finding relevant information as well and increased content decreased bounce rate and increased time on site. These all resulted in more clicks to regional stakeholders.
In the second year of the biennium with the major changes in place implemented for VisitCentralOregon.com, Central Oregon achieved the following:
12%
Increase In Users
(580k vs 518k)
9%
Increase in Sessions
(740k vs 675k)
52%
Increase in Page Views
(1.9M vs 1.3M)
39%
Increase in Pages / Sessions
(2.7 vs 1.9)
73%
Reduction in Bounce Rate
(13% vs 49%)
45%
Increase in Outbound Lodging Clicks
107%
Increase in Campaign Landing Page Traffic
Moving Forward
Website usability will always be a priority for Central Oregon. Our website is our information hub where all media is directed to. Once on the website, our goal is to provide the correct information and direct potential visitors and stakeholders to book travel and activities.
During the process, we learned that some site functionality was not possible, some was not practical, and some was useful and effective. We will continue to use what we learn going forward and have incorporated a second phase of website and user analysis in our current plan.
Back to Home
Next Investment