Mt. Hood & the Gorge :
Trailhead
Ambassa­dors
Mt. Hood and Columbia River Gorge are a veritable playground for outdoor recreation. Every spring, summer, and fall, millions of visitors both near and far flock to the region's trails to experience a piece of Oregon's outdoor adventure. However, with the increase in visitors comes an increase in unprepared hikers and a propensity for misuse on trails. Often a beautiful Instagram photo from a waterfall in the Gorge will inspire thousands to come out with the goal to get that same exact experience. However, many of those visitors travel here unprepared: wearing unsafe footwear, not packing food or water, not carrying a map with them on their trek. This has resulted in year over year increases in search and rescue on our trails as well as the impact of overuse and disrespect of the land.
That is why Trailhead Ambassadors launched on April 22nd, 2018, coinciding with Earth Day. Trailhead Ambassadors is a volunteer destination stewardship program that was pioneered by Friends of the Columbia Gorge and the Mt. Hood and the Columbia River Gorge RDMO, in close partnership with Oregon State Parks and the U.S. Forest Service. Additional support for the program has come from local DMOs in the region and donations from Columbia Sportswear and REI.
Goals
The Trailhead Ambassador volunteer program was created with the following goals in mind:
Reduce trailhead and trail congestion
Improve safety and security at our busiest trails
Promote responsible hiker ethics such as Leave No Trace and Ready, Set, Gorge (a Travel Oregon Forever Fund awardee)
Encourage visitors to spread their economic impact further throughout the region
Support for our land managers with regular trail feedback
Our volunteers were made up of locals; individuals and families who live in or near the communities where these popular trails reside. Volunteers wanted to give back to the trails they hold near and dear to them. In order to be a Trailhead Ambassador, volunteers committed to a four hour training that covered topics including: how to engage with visitors, trail safety, Leave No Trace ethics, invasive weed prevention, detailed trail overviews, and local tourism information. They also committed to completing at least four, six-hour shifts out in the field.
There definitely was a need for this program as one ambassador wrote, I was fully engaged with visitors from 8 a.m. - 2 p.m. I loved feeling like I was making a difference. And why do ambassadors volunteer? One wrote, It has long been my belief that people will do the right thing on the trails if they are informed and understand the negative impacts. And another, Since I don't feel physically capable of helping with trail restoration right now, the Trailhead Ambassador program was the perfect choice for me.
Outcome
The goal was to get the program launched in year one, including setting up a tracking system for volunteer investment, and then to build off of that success in year two. After the first season, we not only had a tracking system for our volunteer time, we also created a system to track visitor engagements, changes in behavior, and other qualitative notes that could be shared and distributed to agency partners.
The program was driven by the support of the following key partners: the RDMO, Friends of the Columbia Gorge, Oregon State Parks, USFS Columbia River Gorge, USFS Mt. Hood National Forest, and our regional DMOs.
Results
Results exceeded expectations. We went into planning with the idea that we would launch with three to five trailheads. However, in the middle of building the program, part of the region was impacted by the Eagle Creek Fire. In the wake of the fire, local agency partners looked to this program as a possible solution to the challenges we would have in the 2018 high season with trail closures and visitor communications. We went from wanting to start the program small to launching with volunteers at ten trailheads. The increased attention on the Gorge during this time resulted in more interest from volunteers before launch.
Examples of impact:
Direct visitors to less crowded trail alternatives
Inform visitors about trail conditions, appropriate use of footwear and shared trail maps
Tend to visitors with scrapes, bruises, and bee stings
Answer questions about the closures related to the 2017 Eagle Creek fire
Teach kids about trash collection and how to use a boot brush before and after their hike
Inform Oregon State Parks about a recent landslide at Starvation Creek
Year Two Highlights to Date:
Two new trailheads added for a total of 12 trailheads.
Over 130 volunteers trained for the season, including Travel Oregon and Oregon's Mt. Hood Territory staff
Provided training materials to the North Coast of Oregon to help them develop their Ambassador Program
Partners helped Forest Park in Portland develop a Trailhead Ambassador Program.
Planted the seeds for a River Ambassador program to be developed at the Clackamas River Tourism Studio.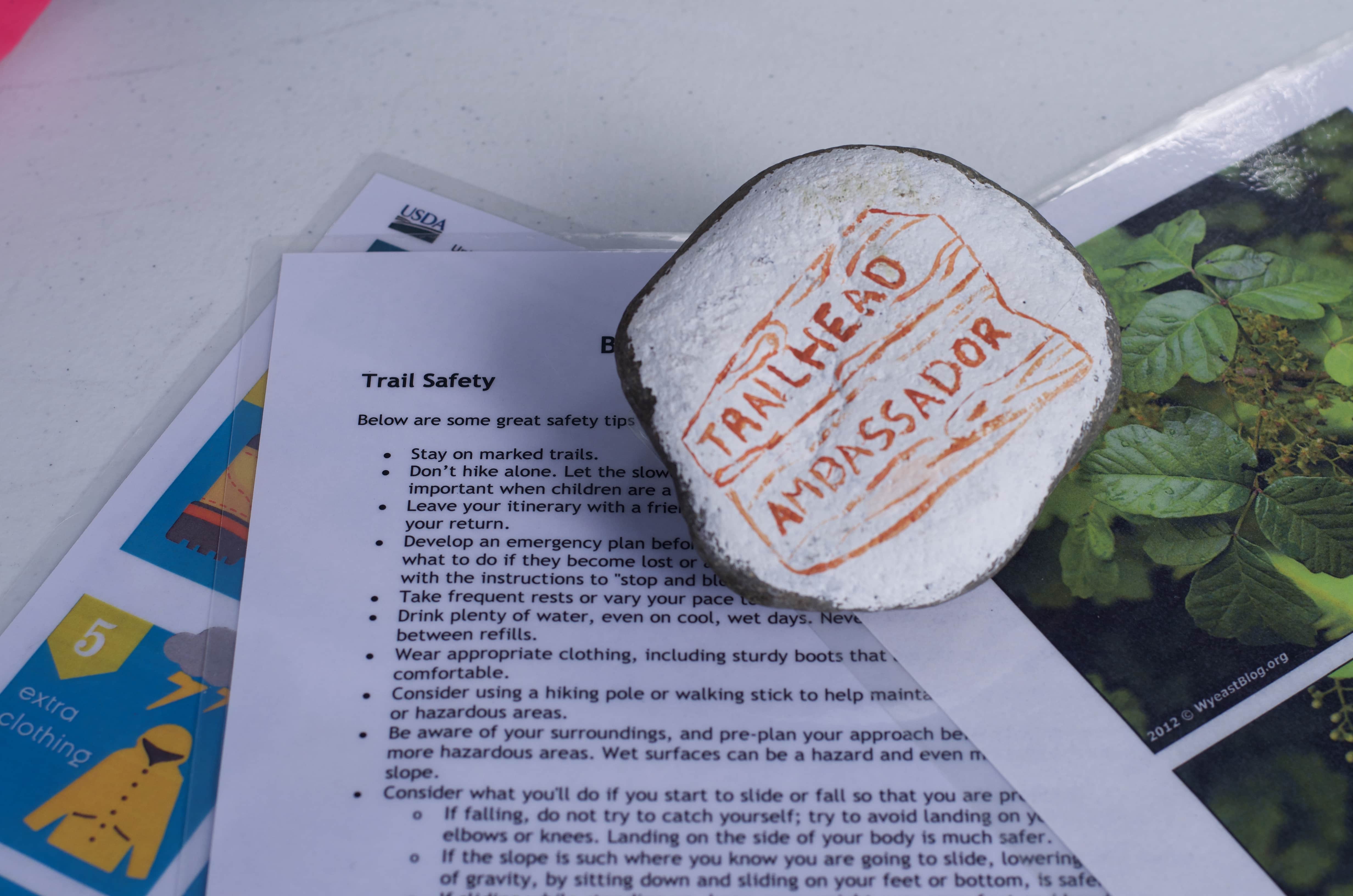 Moving Forward
We will continue to invest is this program in the 19–21 biennium, as well as help develop a future Ambassador program along the Clackamas River. Because we have regular feedback loops with volunteers, we are constantly tweaking the program to meet volunteer and agency partner needs.
The Eagle Creek Fire was a significant challenge we had to manage leading up to launching this program. We also identified an opportunity through this program to collect invaluable data. In season three we are planning to ask volunteers to ask visitors how they found out about the trail they are on. This will help us know where to target hiker preparedness messaging in the future.
Back to Home
Next Investment