Portland Region :
Society of American Travel Writers Conference
The Society of American Travel Writers (SATW) is a professional organization comprised of the travel industry's most experienced journalists, photographers, editors, broadcast/video/film producers, bloggers, website owners, public relations experts and hospitality industry representatives from the United States, Canada and beyond. Held in Portland in October, 2017, the annual SATW Conference brought more than 150 travel writers to the region for four days of meetings and presentations, full-immersion Portland networking receptions and dinners and an additional two days of Portland Region tours all sandwiched by pre- and post-conference tours in each of the seven regions of Oregon.
The entire conference program can be found here:
View Conference Program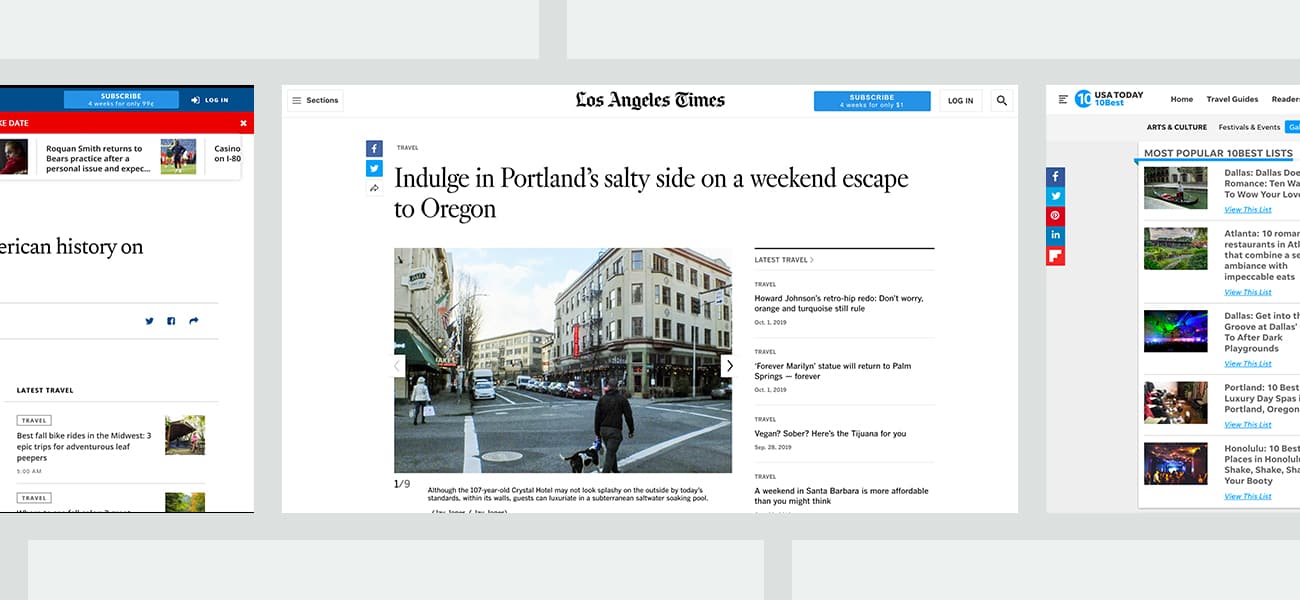 Goals
The goal of the RCTP investment was to introduce new regional, national and Canadian media to Portland Region story ideas, secure coverage and build relationships that can be capitalized on in the future. To achieve this, the Portland Region DMO partners worked together to plan and host Portland Region dinners during the conference and familiarization tours in Portland, the Tualatin Valley and Mt. Hood Territory. Additionally, Portland Region funds supported pre- and post-conference tours in each of the other six Oregon tourism regions.
188 million
Media Impressions
Outcome
Based on the success of past host destinations, the Portland Region estimated an outcome of at least 50 pieces of coverage resulting in at least 30 million media impressions. To date, the convention has resulted in at least 33 media results with combined earned media impressions of approximately 188 million. 
As is typical, a few of the clips resulted in most of the impressions with articles published in the San Francisco Chronicle (multiple), Los Angeles Times, Chicago Tribune and USA Today (multiple). Syndicated articles originally published by major news services such as the LA Times and Chicago Tribune were not tracked as they are often republished over multiple months in smaller publications.
As an example, a story about the Oregon Trail appearing in the Chicago Tribune appeared in numerous Tribune owned newspapers in smaller markets—these articles and their associated impressions are not reflected in the Portland Region metrics. Finally, earned media coverage typically appears over the course of several years after an initial tour or pitch, therefore the Portland Region expects to continue earning placements for another 12-18 months as a result of hosting the SATW Conference. While the Portland Region's investment occurred in one year of the biennium, the work and results span both years and beyond.
Moving Forward
The Portland Region will continue to invest in and drive collaborative PR and media strategies that focus on regional drive and fly markets and facilitate regional storylines for media seeking to serve up new content for their audiences. Similarly, Portland Region funds will support a collaborative in-market activation in a city such as New York, San Francisco or L.A. involving three of the five Portland Region DMOs in partnership with Travel Oregon in the 19-21 biennium.
The joint investment and collaboration required to host the SATW Conference and associated tours in the Portland Region provided a blueprint for region PR collaboration going forward. While Travel Portland, Oregon's Mt. Hood Territory and the Tualatin Valley all have their domestic and international media relations strategies and target markets, there are ways to continue to align around specific opportunities and coordinate with Travel Oregon's efforts as a region and the respective PR teams at each of these organizations will continue to work together to do that.
Back to Home
Next Investment